Walking the farmland along I-20 in Mesquite, I stopped to pick up a rock. About the size of my fist. About the size of one of the biggest uncut diamonds ever discovered.
If this rock were a diamond, I wondered, how might it be cut to achieve its maximum worth? Would it be two diamonds or two dozen? Or by poor planning shattered like a piece of glass into nearly worthless remnants? Diamond cutters only get one chance.
PERILOUS FUTURE
Looking from the rock to the land, I saw how perilous the future is for the area I was walking. The undeveloped land is part of four square miles along I-20 that the City of Mesquite had annexed.
On one hand, city fathers could allow developers to take the money and run. Allow it to be developed as the rest of Mesquite has been developed; with lifeless strip malls, small tract houses and congested streets, all further cementing Mesquite's image as a place of also-ran cities in the Dallas-Fort Worth region.
Or they could deliberately turn it into a lively, one-of-a-kind community with a thriving business center, multiple housing options and plenty of open space. A community defined first by how it creates activities for people of all backgrounds to come together to live, work and play. A community connected by bike trails, parks and plazas and held together by events for everyone.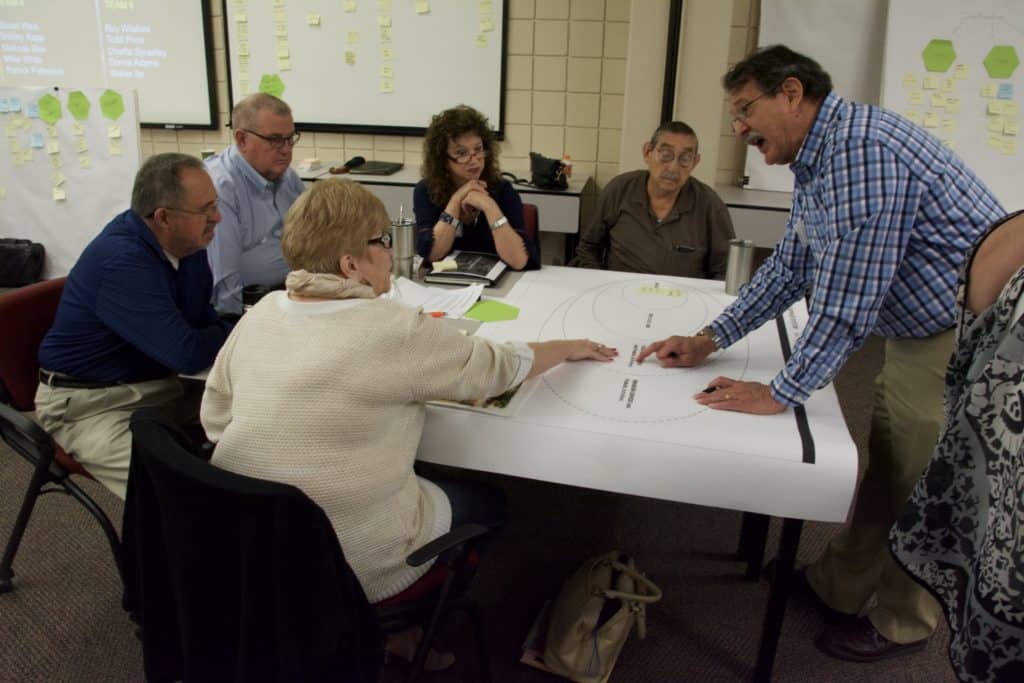 PRESSURE FOR ACTION
The diamond cutters, aka members of the Mesquite City Council, are at the ready. Some in Mesquite want the cutters to carve up the land so they can get their money out now. How foolish it would be to wait in the face of an unpredictable future! Others want to hold off, so developers can create a one-of-a-kind community. What a boost it would be for the city. What a game changer!
That the cutters must act soon is a given. The pressure for growth in Mesquite is mounting. Predictions are that the undeveloped area along I-20 will undergo intensive development in the next several years. It's expected that the City of Mesquite will add 77,000 new residents by 2050 as the Dallas-Fort Worth region grows from 6 million to 10 million people. The city believes it's inevitable that thousands of those people will settle along to the I-20 corridor.
What's more, there are few examples of successful, one-of-a-kind communities in the Dallas-Fort Worth region. West Village in Dallas is one; Legacy in Plano is another. But have you walked around Las Colinas lately? It's a planned community and it feels dead much of the time. The norm throughout the rest of the region is strip centers. It takes a car to get anywhere. Regional malls rise and fall.
CITY MANAGER AMPED UP DISCUSSION
And so it was that Mesquite City Manager Cliff Keheley amped up the discussion. Exactly how could development along the I-20 corridor be a game-changer for the city, boosting its image and promoting its sustainability? How could city leaders realize long-term community building might yield many more returns than short-term gain via traditional subdivision development?
Keheley asked me and Conbrio to design and lead a project, including a two-day workshop to get answers. Keheley picked Conbrio, in part, because we could be independent of the city's planning department, elected officials and the DFW region's traditional planning and architecture community. Someone truly neutral.
I used a concept called placemaking (in private and not-for-profit sectors, it's called design thinking) as the way to lead the conversation among 27 participants, including Mesquite residents, business owners and landowners, who met for two days.
HUMAN-CENTERED APPROACH
What is placemaking? It's about creativity. It's about a human-centered approach to innovation.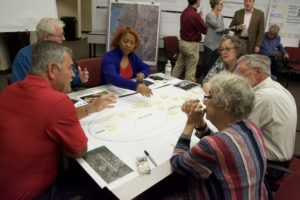 And to design. Leveraging arts, culture and family activities. It asks first whether the design is desirable. What do people want or need? It then moves to asking about viability and feasibility. Should we do it? Can we do it? What makes a great place? Four key attributes: Uses and activities, comfort and image, access and linkages and sociability.
For the process to be effective, it must include a variety of people with different backgrounds and experiences. They must work together collaboratively in order to yield buy-in. Empathy must be an important component, as well as brainstorming in teams. Participants must be willing to iterate solutions and prototype outcomes.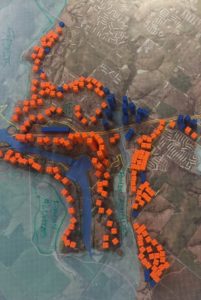 FIVE ALTERNATIVES
Participants in this workshop fulfilled the criteria for effectiveness. They came up with five alternatives which amounted to a clear direction to the diamond cutters. The I-20 corridor should be a remarkable, one-of-a-kind place primarily defined by uses, activities and appearances. Social engagement and connections should be augmented by favorable density and land use. The area should appeal to people with a variety of backgrounds, experiences, ages and family types.
The city council warmly embraced the project's outcome. Keheley achieved the neutrality he was looking for. And city staffers said the outcome exceeded their expectations. Next step: Confirming the necessary zoning.
SIREN SONG SOUNDS
But since the presentation, the city council diamond cutters have been wavering. The siren song of quick gain continues.
I tossed the rock I had been holding to the ground, still wondering how this rough diamond of land will be developed.
To watch a video of this project: