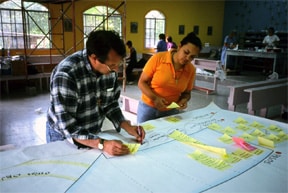 I'm back from Honduras where I led a strategic visioning project with the leaders of Santa Cruz Arriba, a small, rural community on the outskirts of the capital city of Tegucigalpa.
Sometimes, clarity is found way outside daily norms. Take yourself out of your company or organization, out of your daily routine, your normal living situation. Thrust yourself into a foreign culture working with people whose economic situation and view of the world are radically different, who have found little in the way of success as we define success. New perspectives emerge… about what we believe, why we do the things we do, how we solve problems, what we value.
What we saw was clarity around strategic visioning… its value, its pitfalls.
In Santa Cruz Arriba, strategic visioning brought hope to a community and its leaders that had not experienced hope before. It brought harmony… community leaders had conversations with each other they had never had before but have needed to have for a long time. It brought accomplishment… results that came out of the vision have a good chance of standing the test of time. And it brought excitement… leaders see the plan as a catalyst for change, changes that would not occur were it not for the visioning process.
Like any vision, it'll almost certainly be revised. There's always a tension between following the vision and taking advantage of opportunities that pop up along the way. Issues, including good leadership, having the right people doing the right things, finding the discipline to execute…even believing that the dreams can be realized… must be dealt with. It won't be easy… but the vision will likely stand the test of time.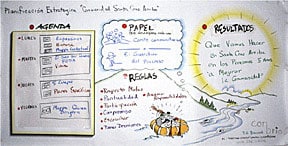 Santa Cruz Arriba is sparsely settled… some 500 people live in 85 households in an eclectic area nestled among striking green hills on the major highway leading north out of the capital city. There's a big Texaco gas station, a handful of small warehouses, an Episcopal church, a school, two cemeteries, and, under construction, a waterpark… but no real main street or central plaza like so many other small towns.
Most residents are beyond poor. The average annual household income is about $1,800 a year. An average of six people live in each house.
Most houses are one or two rooms. Kitchens are indoor/outdoor affairs with wood fires. Some houses have latrines; some don't. A handful have electricity. Many families sleep two or three to a bed. Raw beauty of the land hides the grinding poverty.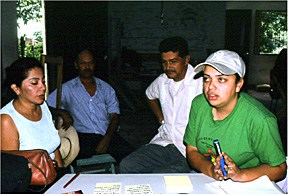 I had no idea what to expect, how leaders would take to strategic visioning. With a limited and different view of the world from North Americans, would Santa Cruz Arriba residents know enough about the political, economic, social environment they live in? Would they understand what strengths, weaknesses, possibilities their community has? Would, could they dream what might be? Or would they be bored?
15 key leaders immediately became totally focused. Among them were the head of the community, the head of the sewing cooperative, the principal of the school, the Episcopal priest, the head of the water board and two younger residents.
A visual approach, including use of graphic templates helped the focus.
Leaders spent four days working through the process and never let up.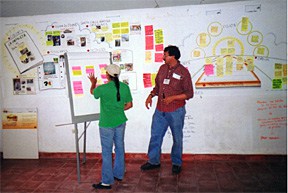 First quiet, then an eruption of conversation at the beginning of each segment as participants began to work. They naturally broke down into small groups of four or five, brainstormed, then narrowed down their suggestions. Each group picked a spokesman… almost always the younger members of their groups… to offer up the results of their conversations. Spontaneous applause came naturally after each presentation.
In working with the templates, they didn't always get what was called for, or they would be too narrow, too specific in their answers… and not broad enough.
We worked together to get the right items in the right places, then write the final words.
But at the end they produced substantive, realistic results for all exercises.
What was their vision, purpose? To be a model community, a just place where residents are united and all share. Stunning in its simplicity… and its complexity.
In Santa Cruz Arriba, yes, it can be done! That was the battle cry they settled on, a way to counter a pervasive feeling throughout Honduras, that no, it can't be done.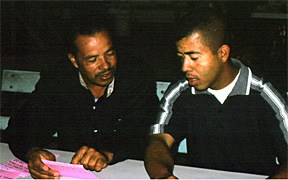 In strategic visioning, the process is to go back before going forward.
Participants started by doing a history timeline of the community from 1970.
Histories are a way to clean out the closet, identify the good and the bad, decide what to throw away and what to keep. They're a way of seeing what's been learned over time.
In Santa Cruz Arriba, electricity arrived in the 1970s, as did water wells with pumps and a two-room school. In the 1980s, the first latrine was dug and a church was built.
In the 1990s, the Texaco gas station opened and Hurricane Mitch destroyed six houses.
From 2000 forward, a deep water well was drilled, the school expanded, a new church built, a sewing cooperative started. The community learned that being united, working with the government, forming alliances were all helpful to creating a better place to live.
Next, in drawing a context map, participants acknowledged brutal facts.
Some examples: 80% unemployment, limited access to credit, no access to the internet, paucity of jobs, housing shortage, loss of values, lack of electricity, roads, enough water.
They used a SPOT analysis to make the case for change. Some strengths: good leaders, new deep water well, active churches, new multi-media center at the school. Weaknesses: lack of teachers, a middle school, jobs, housing, government support, public services. They zeroed in on negativism, the sense that it can't be done.
In their cover story vision… an over-the-top opportunity to be creative… participants cut photos from magazines, wrote headlines describing the ideal in 5 years.
Examples: a photo showing water from the faucet so clean, it was used to wash eyeballs. A photo of a young executive dressed in coat and tie illustrating new professionals moving into the community. A photo on the cover showing an Ozzie-and-Harriet family tending a garden. And a clenched fist with words saying "Unity in Diversity."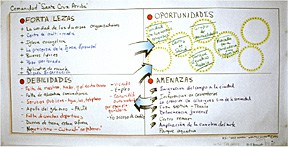 Bringing the vision down to earth, participants committed to 6 initiatives: Become a center and model for recreation and sports for the community and surrounding areas; become a model for education for students and leaders for the area; empower people to lead and organize several community work teams; create jobs with fair wages; obtain basic services including electricity, telephone and water; and foster a culture that believes in God and the ability of people to get things done.
Participants agreed on five bold steps to implement the initiatives: Create 4 new businesses which employ 50 people, start a public works construction program, start a sports and recreation program with different offerings for different ages, create a program to train new leaders and support current leaders, start education programs to educate residents of all ages and that will support cultural values.
Making specific implementation plans proved hardest. Participants tackled plans for all 5 steps, looking for quick successes, low cost items to implement.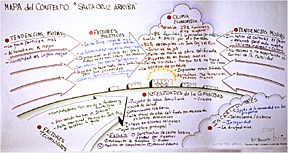 Risks going forward: Leaders will need assistance with process to work through the specifics in the months and years to come. Not unlike here at home.
Information will be tough to come by. A BIG question: Who owns the land?
Who will provide technical assistance? Lots will be necessary. Hopefully, I'll be back in Santa Cruz Arriba myself along with several colleagues to help with details.
All in all, a tremendously rewarding experience. Some ask how I got involved in the first place. The strategic visioning project was part of a larger effort supported by my church. This is the third year we have worked in the Santa Cruz Arriba community.