I'm wondering as you do your strategic planning for 2018 and beyond what data you're using to drive your mapmaking.
Island California
Figuratively speaking, is your data producing a map like the 1701 version of North America made by Dutch cartographer Hermon Moll? Moll's showed California as an island off the west coast.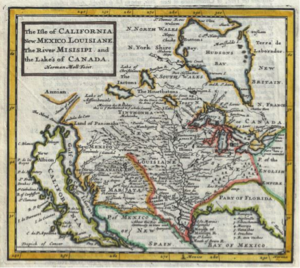 Moll based this map on reports from Spanish explorers, who traveled on the western side of North America from Puget Sound to the Baja Peninsula. On earlier maps North America was one great landmass. But after visiting Puget Sound, explorers envisioned California as an island.
Using the 1701 map, missionaries landed near today's Monterrey, California to bring the word of God to the American Indians. They disassembled their boats, packed them on mules, hauled them east across central California and over the Sierra Nevada. They expected to find a beach and water on the other side. They found the Nevada desert instead.
The missionaries wrote the Spanish map-makers to tell them the map was wrong. The map-makers protested; Moll's map was right, they said. The missionaries were in the wrong place. Not until 1721 did Moll concede his error.
Wrong Facts Yield Wrong Map
The point is, if you get your facts wrong, you get your map wrong. If you get your map wrong, you do the wrong things. Once you believe in a map, it's very, very hard to change. Everyone has deeply ingrained maps, especially successful executives.

Scenario planning, say those who invented the process, is about challenging those powerful maps and forcing people to ask themselves difficult and often painful questions about how the future might be different from the present or recent past. My experience is any good strategic planning process should present the same challenge. Without the challenge, there usually are no breakthroughs.
Seeing New Things
Does your year-to-year strategic visioning challenge you to see things you haven't seen before? It's my experience gained through dozens of strategic visioning projects over the years that if it doesn't, you're asking for trouble as the world changes around you, leaving you and your organization behind.